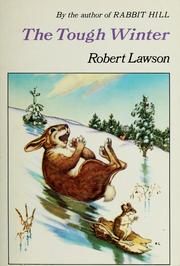 J Fic Law
The tough winter
New York : Puffin Books, 1979, c1954.
128 p. : ill. ; 20 cm.
The hard winter that Analdas, the old Rabbit, prophesies comes to pass in more ways than one for the dwellers of Rabbit Hill when the "Folk" go away and leave a neglectful Caretaker with a mean Dog in charge.
Available
Juvenile (Elementary) Fiction
1 copy available at Dalat International School Library
| | |
| --- | --- |
| ISBN: | |
| Dewey Class No: | |
| Author: | |
| Title: | |
| Publisher: | New York : Puffin Books, 1979, c1954. |
| Subject: | |
| Subject: | |
| Subject: | |
| Call: | J Fic Law |
| Link: | |
| Field | Ind | Subfield | Data |
| --- | --- | --- | --- |
| 001 | | | 48618 |
| 005 Last Transction | | | 20190119011719.0 |
| 008 Data Elements | | | 790530c19791954nyua j 000 1 eng |
| 010 LCCN | | $a Record content licensor | 79009192 /AC |
| 020 ISBN | | $a ISBN | 978-0-14-031215-7 |
| 035 System Cntrl No | | $a System control number | E5243CB2DFED11D38AAA00050236492D |
| 035 System Cntrl No | | $a System control number | (NKSD)91965 |
| 035 System Cntrl No | | $a System control number | (RICAT)128828 |
| 040 Cataloging Src | | $a Original cataloging agency | DLC |
| | | $c Transcribing agency | DLC |
| | | $d Modifying agency | ICrlF |
| 050 LCCN | 1 | $a Classification number | PZ10.3.L39 |
| | | $b Item number | To 1979 |
| 082 Dewey Class No | | $a Classification number | [Fic] |
| 100 Personl Name ME | 1 | $a Personal name | Lawson, Robert, |
| | | $d Dates associated with a name | 1892-1957. |
| 245 Title | 14 | $a Title | The tough winter / |
| | | $c Statement of responsibility | by Robert Lawson. |
| 260 PublicationInfo | | $a Place of publication, dist. | New York : |
| | | $b Name of publisher, dist, etc | Puffin Books, |
| | | $c Date of publication, dist, etc | 1979, c1954. |
| 300 Physical Desc | | $a Extent | 128 p. : |
| | | $b Other physical details | ill. ; |
| | | $c Dimensions | 20 cm. |
| 510 Citation/Refs | 0 | $a Name of source | New York Times |
| 520 Summary Etc. | | $a Summary, etc. note | The hard winter that Analdas, the old Rabbit, prophesies comes to pass in more ways than one for the dwellers of Rabbit Hill when the "Folk" go away and leave a neglectful Caretaker with a mean Dog in charge. |
| 650 Subj:Topic | 0 | $a Source other than LC | Animals, Legends and stories of. |
| 650 Subj:Topic | 1 | $a Source other than LC | Animals |
| | | $x | Fiction. |
| 650 Subj:Topic | 7 | $a Source other than LC | Animals |
| | | $x | Fiction. |
| | | $2 | sears. |
| 852 Holdings | | $a Location | DISL |
| | | $h Classification part | J Fic Law |
| | | $p Barcode | 66169 |
| | | $9 Cost | $3.95 |
| 856 ElectronicLocat | 4 | $3 Materials specified | Cover image |
| | | $u Uniform Resource Identifier | https://covers.openlibrary.org/b/id/6610757-M.jpg |