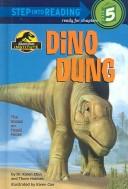 BR 567.9 Chi
Dino dung : the scoop on fossil feces
New York : Random House, c2005.
48 p. : ol. ill. ; 23 cm.
Dinosaur dung - waste, old feces - is examined and explained by the world-famous "fossil dung detective" Dr. Karen Chin, who tells us about which plants and animals lived together in the past and who was eating what.
Available
Beginning Reader
1 copy available at Dalat International School Library
| Field | Ind | Subfield | Data |
| --- | --- | --- | --- |
| 001 | | | 48552 |
| 005 Last Transction | | | 20190113015804.0 |
| 008 Data Elements | | | 040107s2005 nyua j 000 0 eng |
| 010 LCCN | | $a Record content licensor | 2004000287 |
| 020 ISBN | | $a ISBN | 978-0-375-82702-0 (trade pbk.) : |
| | | $c Terms of availability | $3.99 |
| 020 ISBN | | $a ISBN | 978-0-375-92702-7 (hardcover lib. bdg.) |
| 035 System Cntrl No | | $a System control number | (OCoLC)ocm54007112 |
| 040 Cataloging Src | | $a Original cataloging agency | DLC |
| | | $c Transcribing agency | DLC |
| | | $d Modifying agency | JRS |
| 042 Authentication | | $a Authentication code | pcc |
| 049 | | $a | JRSA |
| 050 LCCN | 00 | $a Classification number | QE899.2.C67 |
| | | $b Item number | C48 2005 |
| 082 Dewey Class No | 00 | $a Classification number | 567.9 |
| | | $2 Edition number | 22 |
| 099 | | $f | CHILDREN |
| | | $a | 567.9 C539 2005 |
| 100 Personl Name ME | 1 | $a Personal name | Chin, Karen. |
| 245 Title | 10 | $a Title | Dino dung : |
| | | $b Remainder of title | the scoop on fossil feces / |
| | | $c Statement of responsibility | by Karen Chin and Thom Holmes ; illustrated by Karen Carr. |
| 250 Edition | | $a Edition statement | 1st ed. |
| 260 PublicationInfo | | $a Place of publication, dist. | New York : |
| | | $b Name of publisher, dist, etc | Random House, |
| | | $c Date of publication, dist, etc | c2005. |
| 300 Physical Desc | | $a Extent | 48 p. : |
| | | $b Other physical details | ol. ill. ; |
| | | $c Dimensions | 23 cm. |
| 490 SeriesStatement | 1 | $a Series statement | Step into reading. A Step 5 book |
| 520 Summary Etc. | | $a Summary, etc. note | Dinosaur dung - waste, old feces - is examined and explained by the world-famous "fossil dung detective" Dr. Karen Chin, who tells us about which plants and animals lived together in the past and who was eating what. |
| 650 Subj:Topic | 0 | $a Source other than LC | Coprolites |
| | | $v | Juvenile literature. |
| 650 Subj:Topic | 0 | $a Source other than LC | Dinosaurs |
| | | $x | Food |
| | | $v | Juvenile literature. |
| 700 AE:PersName | 1 | $a Name | Holmes, Thom. |
| 700 AE:PersName | 1 | $a Name | Carr, Karen, |
| | | $d Dates of flourishing | 1960- |
| 830 SAE:UnifrmTitle | 0 | $a Uniform title | Step into reading. |
| | | $p Name of part/section of a work | A Step 5. |
| 852 Holdings | | $a Location | DISL |
| | | $h Classification part | BR 567.9 Chi |
| | | $p Barcode | 66100 |
| | | $9 Cost | $3.99 |
| 856 ElectronicLocat | 42 | $z Public note | Contributor biographical information |
| | | $u Uniform Resource Identifier | http://catdir.loc.gov/catdir/bios/random055/2004000287.html |
| 856 ElectronicLocat | 42 | $z Public note | Publisher description |
| | | $u Uniform Resource Identifier | http://catdir.loc.gov/catdir/description/random052/2004000287.html |
| 856 ElectronicLocat | 4 | $3 Materials specified | Cover image |
| | | $u Uniform Resource Identifier | https://covers.openlibrary.org/b/id/4243071-M.jpg |