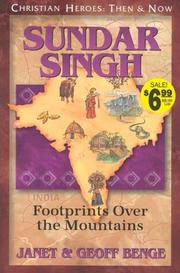 BIO Sin
Sundar Singh : footprints over the mountains
Seattle, WA : YWAM Pub., c2005.
183 p. : map ; 21 cm.
A former Sikh, Sundar Singh found truth in Jesus Christ when he was sixteen and devoted his life to crossing the Himalayas many times in bare feet and with few possessions in order to share the Gospel with the people in the region between India and Tibet.
Available
Default
1 copy available at Dalat International School Library
| Field | Ind | Subfield | Data |
| --- | --- | --- | --- |
| 001 | | | 48546 |
| 005 Last Transction | | | 20190617141428.0 |
| 008 Data Elements | | | 041227s2005 waub j b 000 0beng |
| 010 LCCN | | $a Record content licensor | 2004030061 |
| 020 ISBN | | $a ISBN | 978-1-57658-318-0 |
| 035 System Cntrl No | | $a System control number | 13825658 |
| 040 Cataloging Src | | $a Original cataloging agency | DLC |
| | | $c Transcribing agency | DLC |
| | | $d Modifying agency | DLC |
| 042 Authentication | | $a Authentication code | pcc |
| 043 GAC | | $a Geographic area code | a-ii--- |
| 050 LCCN | 00 | $a Classification number | BV5095.S5 |
| | | $b Item number | B46 2005 |
| 082 Dewey Class No | 00 | $a Classification number | 266/.0092 |
| | | $a Classification number | B |
| | | $2 Edition number | 22 |
| 100 Personl Name ME | 1 | $a Personal name | Benge, Janet & Geoff, |
| | | $d Dates associated with a name | 1958- |
| 245 Title | 10 | $a Title | Sundar Singh : |
| | | $b Remainder of title | footprints over the mountains / |
| | | $c Statement of responsibility | Janet & Geoff Benge. |
| 260 PublicationInfo | | $a Place of publication, dist. | Seattle, WA : |
| | | $b Name of publisher, dist, etc | YWAM Pub., |
| | | $c Date of publication, dist, etc | c2005. |
| 300 Physical Desc | | $a Extent | 183 p. : |
| | | $b Other physical details | map ; |
| | | $c Dimensions | 21 cm. |
| 440 Series Title | 0 | $6 Linkage | Christian Heroes: Then & Now |
| 504 BibliogEtcNote | | $a Bibliography, etc. note | Includes bibliographical references (p. 183). |
| 505 ContentsNote | 0 | $a Formatted contents note | He had saved his own life -- The path that will lead you to God -- The biggest shock of his life -- "We reject you forever" -- Sadhu Sundar Singh -- The life of a traveling Sadhu -- Across the mountains -- A caged forest bird -- "You are alive!" -- Into Nepal -- To the South -- To Tibet once again -- To the West -- In the footsteps of Jesus -- The perfect life. |
| 520 Summary Etc. | | $a Summary, etc. note | A former Sikh, Sundar Singh found truth in Jesus Christ when he was sixteen and devoted his life to crossing the Himalayas many times in bare feet and with few possessions in order to share the Gospel with the people in the region between India and Tibet. |
| 600 Subj:Name | 10 | $a Topical heading | Singh, Sundar, |
| | | $d Date | 1889-1929 |
| | | $v | Juvenile literature. |
| 650 Subj:Topic | 0 | $a Source other than LC | Mystics |
| | | $z | India |
| | | $v | Biography |
| | | $v | Juvenile literature. |
| 700 AE:PersName | 1 | $a Name | Benge, Geoff, |
| | | $d Dates of flourishing | 1954- |
| 852 Holdings | | $a Location | DISL |
| | | $h Classification part | BIO Sin |
| | | $p Barcode | 66093 |
| | | $9 Cost | $8.99 |
| 856 ElectronicLocat | 41 | $3 Materials specified | Table of contents |
| | | $u Uniform Resource Identifier | http://www.loc.gov/catdir/toc/ecip055/2004030061.html |
| 856 ElectronicLocat | 4 | $3 Materials specified | Cover image |
| | | $u Uniform Resource Identifier | https://covers.openlibrary.org/b/id/830318-M.jpg |