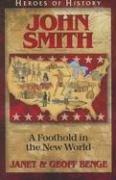 BIO Smi
John Smith : a foothold in the New World
Lynnwood, WA : Emerald Books, c2006.
192 p. : ill., map ; 21 cm.
Distinguishing himself in the wars that raged across the Old World, John Smith was thrown overboard, enslaved by the Turks, captured by pirates, and rescued by a princess, bu his real passion was realized when he sailed to the New World in 1607 to establish the Jamestown settlement.
Available
Default
1 copy available at Dalat International School Library
| Field | Ind | Subfield | Data |
| --- | --- | --- | --- |
| 001 | | | 48541 |
| 005 Last Transction | | | 20190617141427.0 |
| 008 Data Elements | | | 060123s2006 wauab j b 000 0beng |
| 010 LCCN | | $a Record content licensor | 2006001862 |
| 020 ISBN | | $a ISBN | 978-1-932096-36-1 (pbk.) |
| 020 ISBN | | $a ISBN | 978-1-932096-36-1 (pbk.) |
| 035 System Cntrl No | | $a System control number | 14238268 |
| 040 Cataloging Src | | $a Original cataloging agency | DLC |
| | | $c Transcribing agency | DLC |
| | | $d Modifying agency | DLC |
| 043 GAC | | $a Geographic area code | e-uk--- |
| | | $a Geographic area code | n-us-va |
| 050 LCCN | 00 | $a Classification number | F229.S7 |
| | | $b Item number | B46 2006 |
| 082 Dewey Class No | 00 | $a Classification number | 973.21092 |
| | | $a Classification number | B |
| | | $2 Edition number | 22 |
| 100 Personl Name ME | 1 | $a Personal name | Benge, Janet & Geoff, |
| | | $d Dates associated with a name | 1958- |
| 245 Title | 10 | $a Title | John Smith : |
| | | $b Remainder of title | a foothold in the New World / |
| | | $c Statement of responsibility | Janet and Geoff Benge. |
| 260 PublicationInfo | | $a Place of publication, dist. | Lynnwood, WA : |
| | | $b Name of publisher, dist, etc | Emerald Books, |
| | | $c Date of publication, dist, etc | c2006. |
| 300 Physical Desc | | $a Extent | 192 p. : |
| | | $b Other physical details | ill., map ; |
| | | $c Dimensions | 21 cm. |
| 440 Series Title | 0 | $6 Linkage | Heroes of History |
| 490 SeriesStatement | 1 | $a Series statement | Heroes of history |
| 504 BibliogEtcNote | | $a Bibliography, etc. note | Includes bibliographical references (p. 192). |
| 505 ContentsNote | 0 | $a Formatted contents note | Life in the balance -- Dreams of adventure -- Somewhere in Europe an adventure awaited -- Something of a legend -- Captain John Smith -- Enslaved -- Escape -- A new year and a new project -- The long journey -- Building Jamestown -- Chief Powhatan -- Cheating death -- He that will not work shall not eat -- England again -- Pirates -- Longing for the New World. |
| 520 Summary Etc. | | $a Summary, etc. note | Distinguishing himself in the wars that raged across the Old World, John Smith was thrown overboard, enslaved by the Turks, captured by pirates, and rescued by a princess, bu his real passion was realized when he sailed to the New World in 1607 to establish the Jamestown settlement. |
| 600 Subj:Name | 10 | $a Topical heading | Smith, John, |
| | | $d Date | 1580-1631 |
| | | $v | Juvenile literature. |
| 650 Subj:Topic | 0 | $a Source other than LC | Colonists |
| | | $z | Virginia |
| | | $v | Biography |
| | | $v | Juvenile literature. |
| 650 Subj:Topic | 0 | $a Source other than LC | Explorers |
| | | $z | America |
| | | $v | Biography |
| | | $v | Juvenile literature. |
| 650 Subj:Topic | 0 | $a Source other than LC | Explorers |
| | | $z | Great Britain |
| | | $v | Biography |
| | | $v | Juvenile literature. |
| 651 Subj:Geo | 0 | $a Geographic name or place | Jamestown (Va.) |
| | | $x General subdivision | History |
| | | $y Chronological subdivision | 17th century |
| | | $v | Juvenile literature. |
| 651 Subj:Geo | 0 | $a Geographic name or place | Jamestown (Va.) |
| | | $v | Biography |
| | | $v | Juvenile literature. |
| 651 Subj:Geo | 0 | $a Geographic name or place | Virginia |
| | | $x General subdivision | History |
| | | $y Chronological subdivision | Colonial period, ca. 1600-1775 |
| | | $x General subdivision | Juvenile literature. |
| 700 AE:PersName | 1 | $a Name | Benge, Geoff, |
| | | $d Dates of flourishing | 1954- |
| 800 SAE:PersonlName | 1 | $a Personal name | Benge, Janet, |
| | | $d Dates associated with a name | 1958. |
| | | $t Title of a work | Heroes of history. |
| 852 Holdings | | $a Location | DISL |
| | | $h Classification part | BIO Smi |
| | | $p Barcode | 66088 |
| | | $9 Cost | $8.99 |
| 856 ElectronicLocat | 41 | $3 Materials specified | Table of contents only |
| | | $u Uniform Resource Identifier | http://www.loc.gov/catdir/toc/ecip067/2006001862.html |
| 856 ElectronicLocat | 4 | $3 Materials specified | Cover image |
| | | $u Uniform Resource Identifier | https://covers.openlibrary.org/b/id/958468-M.jpg |