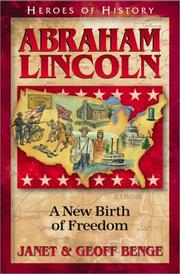 BIO Lin
Abraham Lincoln : a new birth of freedom
Lynnwood, WA : Emerald Books ; [Seattle, WA] : Distributed by YWAM Pub., c2001.
219 p. : map ; 21 cm.
A narrative biography of America's sixteenth president, focusing on his impact on history and on the qualities of his character as a self-taught lawyer with a sharp mind and a passion for justice.
Available
Default
1 copy available at Dalat International School Library
| Field | Ind | Subfield | Data |
| --- | --- | --- | --- |
| 001 | | | 48538 |
| 005 Last Transction | | | 20190114011022.0 |
| 008 Data Elements | | | 010509s2001 waub c b 000 0beng |
| 010 LCCN | | $a Record content licensor | 2001002815 |
| 020 ISBN | | $a ISBN | 978-1-883002-79-4 (pbk. : alk. paper) |
| 035 System Cntrl No | | $a System control number | (IMchF)fol08218204 |
| 035 System Cntrl No | | $a System control number | 81AE790638DD4DF3A765E9EA34D5DDBD |
| 035 System Cntrl No | | $a System control number | (RICAT)797435 |
| 040 Cataloging Src | | $a Original cataloging agency | DLC |
| | | $c Transcribing agency | DLC |
| | | $d Modifying agency | DLC |
| 042 Authentication | | $a Authentication code | lcac |
| 043 GAC | | $a Geographic area code | n-us--- |
| 050 LCCN | 00 | $a Classification number | E457.905 |
| | | $b Item number | .B46 2001 |
| 082 Dewey Class No | 00 | $a Classification number | 973.7/092 |
| | | $a Classification number | B |
| | | $2 Edition number | 21 |
| 100 Personl Name ME | 1 | $a Personal name | Benge, Janet & Geoff, |
| | | $d Dates associated with a name | 1958- |
| 245 Title | 10 | $a Title | Abraham Lincoln : |
| | | $b Remainder of title | a new birth of freedom / |
| | | $c Statement of responsibility | Janet & Geoff Benge. |
| 260 PublicationInfo | | $a Place of publication, dist. | Lynnwood, WA : |
| | | $b Name of publisher, dist, etc | Emerald Books ; |
| | | $a Place of publication, dist. | [Seattle, WA] : |
| | | $b Name of publisher, dist, etc | Distributed by YWAM Pub., |
| | | $c Date of publication, dist, etc | c2001. |
| 300 Physical Desc | | $a Extent | 219 p. : |
| | | $b Other physical details | map ; |
| | | $c Dimensions | 21 cm. |
| 440 Series Title | 0 | $6 Linkage | Heroes of History |
| 490 SeriesStatement | 1 | $a Series statement | Heroes of history |
| 504 BibliogEtcNote | | $a Bibliography, etc. note | Includes bibliographical references (p. 219). |
| 520 Summary Etc. | | $a Summary, etc. note | A narrative biography of America's sixteenth president, focusing on his impact on history and on the qualities of his character as a self-taught lawyer with a sharp mind and a passion for justice. |
| 600 Subj:Name | 10 | $a Topical heading | Lincoln, Abraham, |
| | | $d Date | 1809-1865 |
| | | $v | Juvenile literature. |
| 600 Subj:Name | 11 | $a Topical heading | Lincoln, Abraham, |
| | | $d Date | 1809-1865. |
| 650 Subj:Topic | 0 | $a Source other than LC | Presidents |
| | | $z | United States |
| | | $v | Biography |
| | | $v | Juvenile literature. |
| 650 Subj:Topic | 1 | $a Source other than LC | Presidents. |
| 700 AE:PersName | 1 | $a Name | Benge, Geoff, |
| | | $d Dates of flourishing | 1954- |
| 800 SAE:PersonlName | 1 | $a Personal name | Benge, Janet, |
| | | $d Dates associated with a name | 1958. |
| | | $t Title of a work | Heroes of history. |
| 852 Holdings | | $a Location | DISL |
| | | $h Classification part | BIO Lin |
| | | $p Barcode | 66085 |
| | | $9 Cost | $8.99 |
| 856 ElectronicLocat | 4 | $3 Materials specified | Cover image |
| | | $u Uniform Resource Identifier | https://covers.openlibrary.org/b/id/929235-M.jpg |