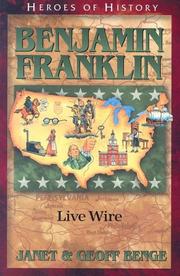 BIO Fra
Benjamin Franklin : live wire
Lynnwood, Wash. : Emerald Books, c2005.
197 p. : map ; 21 cm.
As a printer, writer, scientist, inventor and American statesman, Benjamin Franklin continually sought to improve himself and the world he lived in, eventually making him the only founding father of the United States of America who signed all five of its most key documents.
Available
Default
1 copy available at Dalat International School Library
| | |
| --- | --- |
| ISBN: | |
| Dewey Class No: | |
| Author: | |
| Title: | |
| Publisher: | Lynnwood, Wash. : Emerald Books, c2005. |
| Series: | |
| Subject: | |
| Subject: | |
| Subject: | |
| Subject: | |
| Subject: | |
| Call: | BIO Fra |
| Link: | |
| Link: | |
| Field | Ind | Subfield | Data |
| --- | --- | --- | --- |
| 001 | | | 48536 |
| 005 Last Transction | | | 20190607082558.0 |
| 008 Data Elements | | | 050104s2005 waub j b 000 0beng |
| 010 LCCN | | $a Record content licensor | 2004030213 |
| 020 ISBN | | $a ISBN | 978-1-932096-14-9 |
| 035 System Cntrl No | | $a System control number | 13830899 |
| 040 Cataloging Src | | $a Original cataloging agency | DLC |
| | | $c Transcribing agency | DLC |
| | | $d Modifying agency | DLC |
| 043 GAC | | $a Geographic area code | n-us--- |
| 050 LCCN | 00 | $a Classification number | E302.6.F8 |
| | | $b Item number | B4515 2005 |
| 082 Dewey Class No | 00 | $a Classification number | 973.3/092 |
| | | $a Classification number | B |
| | | $2 Edition number | 22 |
| 100 Personl Name ME | 1 | $a Personal name | Benge, Janet & Geoff, |
| | | $d Dates associated with a name | 1958- |
| 245 Title | 10 | $a Title | Benjamin Franklin : |
| | | $b Remainder of title | live wire / |
| | | $c Statement of responsibility | Janet & Geoff Benge. |
| 260 PublicationInfo | | $a Place of publication, dist. | Lynnwood, Wash. : |
| | | $b Name of publisher, dist, etc | Emerald Books, |
| | | $c Date of publication, dist, etc | c2005. |
| 300 Physical Desc | | $a Extent | 197 p. : |
| | | $b Other physical details | map ; |
| | | $c Dimensions | 21 cm. |
| 440 Series Title | 0 | $6 Linkage | Heroes of History |
| 490 SeriesStatement | 1 | $a Series statement | Heroes of history |
| 504 BibliogEtcNote | | $a Bibliography, etc. note | Includes bibliographical references (p. 197). |
| 505 ContentsNote | 0 | $a Formatted contents note | Thunder and lightning -- Soap and candles -- The apprentice -- Philadelphia -- An up-and-coming young man -- "Water American" -- Skill and industry -- An up-and-coming businessman -- A civic-minded man -- Scientist and inventor -- Time to retire -- Kite flying -- An official representative -- Everyone was raising a toast to him -- Stepping into the war -- Minister to France -- A useful life. |
| 520 Summary Etc. | | $a Summary, etc. note | As a printer, writer, scientist, inventor and American statesman, Benjamin Franklin continually sought to improve himself and the world he lived in, eventually making him the only founding father of the United States of America who signed all five of its most key documents. |
| 600 Subj:Name | 10 | $a Topical heading | Franklin, Benjamin, |
| | | $d Date | 1706-1790 |
| | | $v | Juvenile literature. |
| 650 Subj:Topic | 0 | $a Source other than LC | Statesmen |
| | | $z | United States |
| | | $v | Biography |
| | | $v | Juvenile literature. |
| 650 Subj:Topic | 0 | $a Source other than LC | Inventors |
| | | $z | United States |
| | | $v | Biography |
| | | $v | Juvenile literature. |
| 650 Subj:Topic | 0 | $a Source other than LC | Scientists |
| | | $z | United States |
| | | $v | Biography |
| | | $v | Juvenile literature. |
| 650 Subj:Topic | 0 | $a Source other than LC | Printers |
| | | $z | United States |
| | | $v | Biography |
| | | $v | Juvenile literature. |
| 700 AE:PersName | 1 | $a Name | Benge, Geoff, |
| | | $d Dates of flourishing | 1954- |
| 800 SAE:PersonlName | 1 | $a Personal name | Benge, Janet, |
| | | $d Dates associated with a name | 1958. |
| | | $t Title of a work | Heroes of history. |
| 852 Holdings | | $a Location | DISL |
| | | $h Classification part | BIO Fra |
| | | $p Barcode | 66083 |
| | | $9 Cost | $8.99 |
| 856 ElectronicLocat | 41 | $3 Materials specified | Table of contents |
| | | $u Uniform Resource Identifier | http://www.loc.gov/catdir/toc/ecip055/2004030213.html |
| 856 ElectronicLocat | 4 | $3 Materials specified | Cover image |
| | | $u Uniform Resource Identifier | https://covers.openlibrary.org/b/id/2123997-M.jpg |