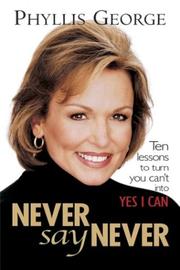 158.1 Geo
Never say never : ten lessons to turn you can't into yes I can
New York : McGraw-Hill, c2003.
xvi, 175 p. ; 21 cm.
"With a career spanning three decades and transitiong seamlessly between the fields of sports, entertainment, politics, and even cooking and crafts, Phyllis George has lived a lifetime of risk-taking, pioneering, and success. Now, she shares the 10 essential lessons of her vast and varied experience-lessons that will give you the strength to take the first step toward the life you want." -- dust jacket.
Available
Default
1 copy available at Dalat International School Library
| Field | Ind | Subfield | Data |
| --- | --- | --- | --- |
| 001 | | | 48478 |
| 005 Last Transction | | | 20181219015611.0 |
| 008 Data Elements | | | 020722s2003 nyu 000 0 eng |
| 015 Bibliography No | | $a National bibliography number | GBA2-V5082 |
| 020 ISBN | | $a ISBN | 978-0-07-140878-3 (alk. paper) |
| 020 ISBN | | $a ISBN | 978-0-07-140878-3 (alk. paper) |
| 020 ISBN | | $a ISBN | 978-0-07-142780-7 (cover) |
| 020 ISBN | | $a ISBN | 978-0-07-142780-7 (cover) |
| 035 System Cntrl No | | $a System control number | (OCoLC)50285508 |
| 035 System Cntrl No | | $a System control number | (OCoLC)50285508 |
| 040 Cataloging Src | | $a Original cataloging agency | DLC |
| | | $b Language of cataloging | eng |
| | | $c Transcribing agency | DLC |
| | | $d Modifying agency | YDX |
| | | $d Modifying agency | UKM |
| | | $d Modifying agency | BAKER |
| | | $d Modifying agency | BTCTA |
| | | $d Modifying agency | YDXCP |
| | | $d Modifying agency | IG# |
| | | $d Modifying agency | BGU |
| 042 Authentication | | $a Authentication code | pcc |
| 050 LCCN | 00 | $a Classification number | BJ1611.2 |
| | | $b Item number | .G46 2003 |
| 082 Dewey Class No | 00 | $a Classification number | 158.1 |
| | | $2 Edition number | 21 |
| 100 Personl Name ME | 1 | $a Personal name | George, Phyllis. |
| 245 Title | 10 | $a Title | Never say never : |
| | | $b Remainder of title | ten lessons to turn you can't into yes I can / |
| | | $c Statement of responsibility | Phyllis George. |
| 260 PublicationInfo | | $a Place of publication, dist. | New York : |
| | | $b Name of publisher, dist, etc | McGraw-Hill, |
| | | $c Date of publication, dist, etc | c2003. |
| 300 Physical Desc | | $a Extent | xvi, 175 p. ; |
| | | $c Dimensions | 21 cm. |
| 505 ContentsNote | 0 | $a Formatted contents note | Say yes to yourself -- Embrace change as your friend -- Be a risk taker -- Find a void and fill it -- Trust your instincts -- Keep your options open -- Feel the power of being nice -- Life isn't perfect -- Keep your perspective -- Learn to laugh at yourself. |
| 520 Summary Etc. | | $a Summary, etc. note | "With a career spanning three decades and transitiong seamlessly between the fields of sports, entertainment, politics, and even cooking and crafts, Phyllis George has lived a lifetime of risk-taking, pioneering, and success. Now, she shares the 10 essential lessons of her vast and varied experience-lessons that will give you the strength to take the first step toward the life you want." -- dust jacket. |
| 650 Subj:Topic | 0 | $a Source other than LC | Success |
| 650 Subj:Topic | 0 | $a Source other than LC | Conduct of life |
| 650 Subj:Topic | 0 | $a Source other than LC | Life skills |
| | | $v | Handbooks, manuals, etc. |
| 852 Holdings | | $a Location | DISL |
| | | $h Classification part | 158.1 Geo |
| | | $p Barcode | 66012 |
| | | $9 Cost | $19.95 |
| 856 ElectronicLocat | 4 | $3 Materials specified | Cover image |
| | | $u Uniform Resource Identifier | https://covers.openlibrary.org/b/id/58424-M.jpg |