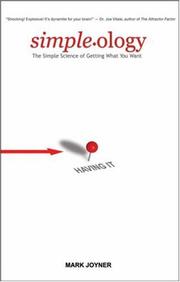 158 Joy
Simpleology : the simple science of getting what you want
Hoboken, N.J. ; Chichester : Wiley, c2007.
xiii, 241 p. : ill. ; 23 cm.
Simpleology presents a system for seeing the world and acting in it in such a way that will allow you to bridge the gap between your dreams and reality by focusing on productive actions and avoiding those that will lead you off-course.
Available
Default
1 copy available at Dalat International School Library
| Field | Ind | Subfield | Data |
| --- | --- | --- | --- |
| 001 | | | 48459 |
| 005 Last Transction | | | 20190517035832.0 |
| 008 Data Elements | | | 061012s2007 njua 001 0 eng |
| 010 LCCN | | $a Record content licensor | 2006033464 |
| 015 Bibliography No | | $a National bibliography number | GBA6A2224 |
| | | $2 Source | bnb |
| 020 ISBN | | $a ISBN | 978-0-470-09522-5 (hbk.) : |
| | | $c Terms of availability | ÂÐ15.99 |
| 020 ISBN | | $a ISBN | 978-0-470-09522-5 (hbk.) : |
| | | $c Terms of availability | ÂÐ15.99 |
| 035 System Cntrl No | | $a System control number | (Uk)013618650 |
| 035 System Cntrl No | | $a System control number | (UkLCURL)72013618650 |
| 035 System Cntrl No | | $a System control number | (UkOxU)017133409 |
| 038 Record Licensor | | $a Record content licensor | Uk |
| 040 Cataloging Src | | $a Original cataloging agency | StDuBDS |
| | | $b Language of cataloging | eng |
| | | $c Transcribing agency | StDuBDS |
| | | $d Modifying agency | Uk |
| 042 Authentication | | $a Authentication code | ukblsr |
| 049 | | $j | CU |
| | | $k | 72013618650 |
| | | $l | b |
| 050 LCCN | 00 | $a Classification number | BF637.S4 |
| | | $b Item number | J69 2007 |
| 082 Dewey Class No | 04 | $a Classification number | 158 |
| | | $2 Edition number | 22 |
| 090 | | $a | BLI |
| | | $b | YK.2007.a.13925 |
| 100 Personl Name ME | 1 | $a Personal name | Joyner, Mark, |
| | | $d Dates associated with a name | 1968- |
| 245 Title | 10 | $a Title | Simpleology : |
| | | $b Remainder of title | the simple science of getting what you want / |
| | | $c Statement of responsibility | Mark Joyner. |
| 246 VaryingTitle | 14 | $a Title proper/short title | Simple.ology |
| 260 PublicationInfo | | $a Place of publication, dist. | Hoboken, N.J. ; |
| | | $a Place of publication, dist. | Chichester : |
| | | $b Name of publisher, dist, etc | Wiley, |
| | | $c Date of publication, dist, etc | c2007. |
| 300 Physical Desc | | $a Extent | xiii, 241 p. : |
| | | $b Other physical details | ill. ; |
| | | $c Dimensions | 23 cm. |
| 500 General Note | | $a General note | Includes index. |
| 500 General Note | | $a General note | Formerly CIP. |
| | | $5 Institution field applies to | Uk. |
| 520 Summary Etc. | | $a Summary, etc. note | Simpleology presents a system for seeing the world and acting in it in such a way that will allow you to bridge the gap between your dreams and reality by focusing on productive actions and avoiding those that will lead you off-course. |
| 650 Subj:Topic | 0 | $a Source other than LC | Self-actualization (Psychology) |
| 650 Subj:Topic | 0 | $a Source other than LC | Success. |
| 650 Subj:Topic | 0 | $a Source other than LC | Success in business. |
| 852 Holdings | 8 | $a Location | UkOxU |
| | | $b Sublocation or collection | BODBL |
| 852 Holdings | | $a Location | DISL |
| | | $h Classification part | 158 Joy |
| | | $p Barcode | 65990 |
| | | $9 Cost | $22.95 |
| 856 ElectronicLocat | 42 | $3 Materials specified | Contributor biographical information |
| | | $u Uniform Resource Identifier | http://www.loc.gov/catdir/enhancements/fy0741/2006033464-b.html |
| 856 ElectronicLocat | 42 | $3 Materials specified | Publisher description |
| | | $u Uniform Resource Identifier | http://www.loc.gov/catdir/enhancements/fy0741/2006033464-d.html |
| 856 ElectronicLocat | 41 | $3 Materials specified | Table of contents only |
| | | $u Uniform Resource Identifier | http://www.loc.gov/catdir/toc/ecip072/2006033464.html |
| 856 ElectronicLocat | 4 | $3 Materials specified | Cover image |
| | | $u Uniform Resource Identifier | https://covers.openlibrary.org/b/id/1239376-M.jpg |