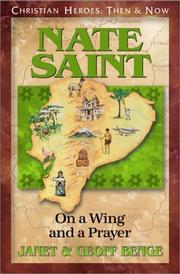 BIO Sai
Nate Saint: On a Wing and a Prayer
Seattle, WA : YWAM, 1998.
200 pgs ; Paperback.
After flying in his big brother's airplane when he was only seven years old, Nate Saint spent his life flying planes to take missionaries to remote areas, ultimately landing on a beach in the jungle of Ecuador and losing his life in order to reach the Auca people.
Available
Default
1 copy available at Dalat International School Library
| Field | Ind | Subfield | Data |
| --- | --- | --- | --- |
| 001 | | | 21419 |
| 005 Last Transction | | | 20190502103148.0 |
| 020 ISBN | | $a ISBN | 978-1-57658-017-2 |
| 100 Personl Name ME | | $a Personal name | Benge, Janet & Geoff. |
| 245 Title | 0 | $a Title | Nate Saint: On a Wing and a Prayer / |
| | | $c Statement of responsibility | Geoff Benge and Janet Benge. |
| 260 PublicationInfo | | $a Place of publication, dist. | Seattle, WA : |
| | | $b Name of publisher, dist, etc | YWAM, |
| | | $c Date of publication, dist, etc | 1998. |
| 300 Physical Desc | | $a Extent | 200 pgs ; |
| | | $c Dimensions | Paperback. |
| 440 Series Title | 0 | $6 Linkage | Christian Heroes: Then & Now |
| 520 Summary Etc. | | $a Summary, etc. note | After flying in his big brother's airplane when he was only seven years old, Nate Saint spent his life flying planes to take missionaries to remote areas, ultimately landing on a beach in the jungle of Ecuador and losing his life in order to reach the Auca people. |
| 650 Subj:Topic | 4 | $a Source other than LC | SAINT, NATE--BIOGRAPHY |
| 650 Subj:Topic | 4 | $a Source other than LC | BIOGRAPHY--MISSIONARIES |
| 650 Subj:Topic | 4 | $a Source other than LC | Ecuador--Missions |
| 650 Subj:Topic | 4 | $a Source other than LC | MISSIONARIES--BIOGRAPHY. |
| 852 Holdings | | $p Barcode | 23130 |
| | | $a Location | DISL |
| | | $h Classification part | BIO Sai |
| | | $9 Cost | $5.00 |
| 852 Holdings | | $a Location | DISL |
| | | $h Classification part | TMCL5 Sai |
| | | $p Barcode | 66078 |
| | | $9 Cost | $8.99 |
| 856 ElectronicLocat | 4 | $3 Materials specified | Cover image |
| | | $u Uniform Resource Identifier | https://covers.openlibrary.org/b/id/830278-M.jpg |