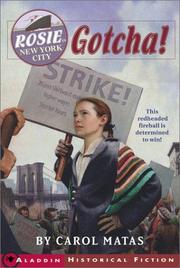 TE4aCL Mat
Rosie in New York City : Gotcha!
New York : Aladdin Paperbacks, 2003.
124 p. ; 20 cm.
When Mama falls ill and Papa invests all the family's money in a new business, eleven-year-old Rosie Lepidus must go to work in a garment factory and soon gets involved in union activities.
Available
Textbooks/Classroom Materials
1 copy available at Dalat International School Library
| | |
| --- | --- |
| ISBN: | |
| Dewey Class No: | |
| Author: | |
| Title: | |
| Publisher: | New York : Aladdin Paperbacks, 2003. |
| Series: | |
| Subject: | |
| Call: | TE4aCL Mat |
| Link: | |
| Field | Ind | Subfield | Data |
| --- | --- | --- | --- |
| 001 | | | 45081 |
| 005 Last Transction | | | 20180531145234.0 |
| 008 Data Elements | | | 020828s2003 nyu c 000 1 eng |
| 010 LCCN | | $a Record content licensor | 2002013149 |
| 020 ISBN | | $a ISBN | 978-0-689-85714-0 |
| 035 System Cntrl No | | $a System control number | (OCoLC)50591078 |
| 040 Cataloging Src | | $a Original cataloging agency | DLC |
| | | $c Transcribing agency | DLC |
| | | $d Modifying agency | IG# |
| | | $d Modifying agency | CIN |
| 043 GAC | | $a Geographic area code | n-us-ny |
| 082 Dewey Class No | 00 | $a Classification number | [Fic] |
| | | $2 Edition number | 21 |
| 100 Personl Name ME | 1 | $a Personal name | Matas, Carol, |
| | | $d Dates associated with a name | 1949- |
| 245 Title | 10 | $a Title | Rosie in New York City : |
| | | $b Remainder of title | Gotcha! / |
| | | $c Statement of responsibility | by Carol Matas. |
| 250 Edition | | $a Edition statement | 1st Aladdin Paperbacks ed. |
| 260 PublicationInfo | | $a Place of publication, dist. | New York : |
| | | $b Name of publisher, dist, etc | Aladdin Paperbacks, |
| | | $c Date of publication, dist, etc | 2003. |
| 300 Physical Desc | | $a Extent | 124 p. ; |
| | | $c Dimensions | 20 cm. |
| 440 Series Title | 0 | $6 Linkage | Gotcha! |
| 490 SeriesStatement | 0 | $a Series statement | Aladdin historical fiction |
| 520 Summary Etc. | | $a Summary, etc. note | When Mama falls ill and Papa invests all the family's money in a new business, eleven-year-old Rosie Lepidus must go to work in a garment factory and soon gets involved in union activities. |
| 650 Subj:Topic | 0 | $a Source other than LC | Jews |
| | | $z | New York (N.Y.) |
| | | $v | Juvenile fiction. |
| 852 Holdings | | $a Location | DISL |
| | | $h Classification part | TE4aCL Mat |
| | | $p Barcode | 76884 |
| | | $9 Cost | $9.95 |
| 852 Holdings | | $a Location | DISL |
| | | $h Classification part | TE4bCL Mat |
| | | $p Barcode | 76885 |
| | | $9 Cost | $9.95 |
| 856 ElectronicLocat | 4 | $3 Materials specified | Cover image |
| | | $u Uniform Resource Identifier | https://covers.openlibrary.org/b/id/437595-M.jpg |