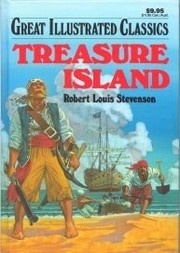 J Fic Gre
Treasure Island
New York, N.Y. : Baronet Books, c1977.
232 p. : ill. ; 21 cm.
Young Jim Hawkins and his friends set sail for Treasure Island, hoping to find the buried loot of Captain Flint, fiercest of all the pirates. But, unknown to them, the crew of their own ship is made up of Flint's former crew, led by the evil one-legged pirate Long John Silver. Once on the island, JIm and his friends must find the buried treasure and escape before the pirates capture them.
Available
Juvenile (Elementary) Fiction
1 copy available at Dalat International School Library
| Field | Ind | Subfield | Data |
| --- | --- | --- | --- |
| 001 | | | 29929 |
| 005 Last Transction | | | 20171113165607.0 |
| 008 Data Elements | | | 080226s1977 nyua j 000 1 eng d |
| 020 ISBN | | $a ISBN | 978-0-86611-958-0 : |
| | | $c Terms of availability | $9.95 |
| 020 ISBN | | $a ISBN | 978-0-86611-958-0 : |
| | | $c Terms of availability | $9.95 |
| 035 System Cntrl No | | $a System control number | (OCoLC)210218442 |
| 035 System Cntrl No | | $a System control number | (OCoLC)ocn210218442 |
| 040 Cataloging Src | | $a Original cataloging agency | IJ9 |
| | | $b Language of cataloging | eng |
| | | $c Transcribing agency | IJ9 |
| | | $d Modifying agency | IJ9 |
| | | $d Modifying agency | OCLCQ |
| 049 | | $a | FPQA |
| 092 | | $a | 823.8 |
| 100 Personl Name ME | 1 | $a Personal name | Stevenson, Robert Louis. |
| 245 Title | 10 | $a Title | Treasure Island / |
| | | $c Statement of responsibility | Robert Louis Stevenson ; adapted by Deidre S. Laiken ; illustrations by A.J. McAllister. |
| 260 PublicationInfo | | $a Place of publication, dist. | New York, N.Y. : |
| | | $b Name of publisher, dist, etc | Baronet Books, |
| | | $c Date of publication, dist, etc | c1977. |
| 300 Physical Desc | | $a Extent | 232 p. : |
| | | $b Other physical details | ill. ; |
| | | $c Dimensions | 21 cm. |
| 440 Series Title | 0 | $6 Linkage | Great Illustrated Classics |
| 520 Summary Etc. | | $a Summary, etc. note | Young Jim Hawkins and his friends set sail for Treasure Island, hoping to find the buried loot of Captain Flint, fiercest of all the pirates. But, unknown to them, the crew of their own ship is made up of Flint's former crew, led by the evil one-legged pirate Long John Silver. Once on the island, JIm and his friends must find the buried treasure and escape before the pirates capture them. |
| 650 Subj:Topic | 1 | $a Source other than LC | Buried treasure |
| | | $v | Fiction. |
| 650 Subj:Topic | 0 | $a Source other than LC | Treasure troves |
| | | $v | Juvenile fiction. |
| 650 Subj:Topic | 0 | $a Source other than LC | Pirates |
| | | $v | Juvenile fiction. |
| 700 AE:PersName | 1 | $a Name | McAllister, A. J., |
| | | $e Relator | ill. |
| 700 AE:PersName | 1 | $a Name | Stevenson, Robert Louis, |
| | | $d Dates of flourishing | 1850-1894. |
| 852 Holdings | | $a Location | DISL |
| | | $h Classification part | TE3bCL Lai |
| | | $p Barcode | 46426 |
| | | $9 Cost | $9.95 |
| 852 Holdings | | $a Location | DISL |
| | | $h Classification part | J Fic Gre |
| | | $p Barcode | 76695 |
| | | $9 Cost | $9.95 |
| 856 ElectronicLocat | 4 | $3 Materials specified | Cover image |
| | | $u Uniform Resource Identifier | https://covers.openlibrary.org/b/id/7257693-M.jpg |
| 856 ElectronicLocat | 4 | $3 Materials specified | Author photo |
| | | $u Uniform Resource Identifier | https://covers.openlibrary.org/a/olid/OL219525A-M.jpg |