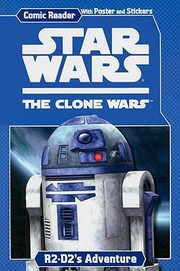 BR May 2
R2-D2's adventure
New York : Grosset & Dunlap : LucasBooks, c2009.
32 p. : col. ill. ; 23 cm.
R2-D2 has been captured and it's up to his friends Anakin Skywalker and Ahsoka Tano to rescue him before the evil General Grievous gets to the top secret information that is locked away in his electronic brain.
Available
Beginning Reader
1 copy available at Dalat International School Library
| | |
| --- | --- |
| ISBN: | |
| ISBN: | |
| Dewey Class No: | |
| Author: | |
| Title: | |
| Publisher: | New York : Grosset & Dunlap : LucasBooks, c2009. |
| Subject: | |
| Subject: | |
| Subject: | |
| AE:UTitle: | Star wars: Clone wars (Television program) |
| Call: | BR May 2 |
| Link: | |
| Field | Ind | Subfield | Data |
| --- | --- | --- | --- |
| 001 | | | 50193 |
| 005 Last Transction | | | 20191116010213.0 |
| 008 Data Elements | | | 090323s2009 nyua j 6 000 1 eng |
| 020 ISBN | | $a ISBN | 978-0-448-45222-7 (pbk.) |
| 020 ISBN | | $a ISBN | 978-0-448-45222-7 (pbk.) |
| 035 System Cntrl No | | $a System control number | (OCoLC)316799201 |
| 035 System Cntrl No | | $a System control number | (OCoLC)ocn316799201 |
| 035 System Cntrl No | | $a System control number | 2 |
| 040 Cataloging Src | | $a Original cataloging agency | BIB |
| | | $c Transcribing agency | BIB |
| | | $d Modifying agency | IHI |
| 049 | | $a | SUTA |
| 082 Dewey Class No | 04 | $a Classification number | 741.5/973 |
| | | $2 Edition number | 22 |
| 100 Personl Name ME | 1 | $a Personal name | Mayer, Kirsten. |
| 245 Title | 10 | $a Title | R2-D2's adventure / |
| | | $c Statement of responsibility | adapted by Kirsten Mayer. |
| 260 PublicationInfo | | $a Place of publication, dist. | New York : |
| | | $b Name of publisher, dist, etc | Grosset & Dunlap : |
| | | $b Name of publisher, dist, etc | LucasBooks, |
| | | $c Date of publication, dist, etc | c2009. |
| 300 Physical Desc | | $a Extent | 32 p. : |
| | | $b Other physical details | col. ill. ; |
| | | $c Dimensions | 23 cm. |
| 500 General Note | | $a General note | "Star Wars : the Clone wars." |
| 500 General Note | | $a General note | "Comic reader with poster and stickers.". |
| 520 Summary Etc. | | $a Summary, etc. note | R2-D2 has been captured and it's up to his friends Anakin Skywalker and Ahsoka Tano to rescue him before the evil General Grievous gets to the top secret information that is locked away in his electronic brain. |
| 650 Subj:Topic | 0 | $a Source other than LC | Space warfare |
| | | $v | Comic books, strips, etc. |
| 650 Subj:Topic | 0 | $a Source other than LC | Space warfare |
| | | $v | Comic books, strips, etc. |
| 650 Subj:Topic | 0 | $a Source other than LC | Star Wars films |
| | | $v | Juvenile literature. |
| 655 | 0 | $a | Graphic novels. |
| 655 | 0 | $a | Star Wars fiction. |
| 730 AE:UTitle | 0 | $a Uniform title heading | Star wars: Clone wars (Television program) |
| 852 Holdings | | $a Location | DISL |
| | | $h Classification part | BR May 2 |
| | | $p Barcode | 36713 |
| | | $9 Cost | $0.00 |
| 856 ElectronicLocat | 4 | $3 Materials specified | Cover image |
| | | $u Uniform Resource Identifier | https://covers.openlibrary.org/b/id/7513672-M.jpg |