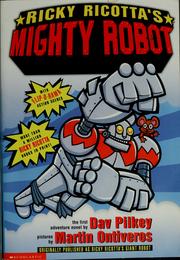 J Fic Pil
Ricky Ricotta's mighty robot
New York : Scholastic, 2014.
106 p. : ill. ; 20 cm.
Ricky Ricotta, a small mouse, saves a giant robot from his evil creator, Dr. Stinky, and in turn, the robot protects Ricky from the bullies at school and it saves the city from Dr. Stinky's plan to destroy it.
Overdue
Juvenile (Elementary) Fiction
All copies at Dalat International School Library are out and at least one is overdue
| Field | Ind | Subfield | Data |
| --- | --- | --- | --- |
| 001 | | | 50147 |
| 005 Last Transction | | | 20191112115154.0 |
| 008 Data Elements | | | 000329s2000 nyua b 000 1 eng d |
| 020 ISBN | | $a ISBN | 978-0-545-63009-2 |
| 035 System Cntrl No | | $a System control number | (IMchF)fol05736796 |
| 035 System Cntrl No | | $a System control number | 17DD326AEEA84F4F88BB26FC559B5F5F |
| 035 System Cntrl No | | $a System control number | (RICAT)198053 |
| 035 System Cntrl No | | $a System control number | 45403 |
| 040 Cataloging Src | | $a Original cataloging agency | ICrlF |
| | | $c Transcribing agency | ICrlF |
| | | $d Modifying agency | ICrlF |
| | | $d Modifying agency | KyLxBWI |
| 050 LCCN | 00 | $a Classification number | PZ7.P63123 |
| | | $b Item number | Ri 2000 |
| 082 Dewey Class No | 00 | $a Classification number | [E] |
| | | $2 Edition number | 21 |
| 100 Personl Name ME | 1 | $a Personal name | Pilkey, Dav, |
| | | $d Dates associated with a name | 1966- |
| 245 Title | 10 | $a Title | Ricky Ricotta's mighty robot / |
| | | $c Statement of responsibility | by Dav Pilkey ; pictures by Martin Ontiveros. |
| 250 Edition | | $a Edition statement | Rev ed. |
| 260 PublicationInfo | | $a Place of publication, dist. | New York : |
| | | $b Name of publisher, dist, etc | Scholastic, |
| | | $c Date of publication, dist, etc | 2014. |
| 300 Physical Desc | | $a Extent | 106 p. : |
| | | $b Other physical details | ill. ; |
| | | $c Dimensions | 20 cm. |
| 440 Series Title | 0 | $6 Linkage | Ricky Ricotta |
| 510 Citation/Refs | 0 | $a Name of source | School Library Journal |
| 510 Citation/Refs | 0 | $a Name of source | Bulletin (Center for Children's books) |
| 510 Citation/Refs | 0 | $a Name of source | Library Talk |
| 520 Summary Etc. | | $a Summary, etc. note | Ricky Ricotta, a small mouse, saves a giant robot from his evil creator, Dr. Stinky, and in turn, the robot protects Ricky from the bullies at school and it saves the city from Dr. Stinky's plan to destroy it. |
| 596 | | $a | ALDL BFLD BOGT CARL DEMA DUMT EDGE EMER FAIR FTLE GLRG HAPK HAWH HTHN LEON LIVI LODI LYND MAHW MIPK MOVL NMIL NOAR NOVL NOWD ORAD PALP PARA PARABR PKRD PASC PASCBR RAMS RIVE WALD WCAL |
| 596 | | $a | 2 3 4 5 9 10 12 14 16 18 21 24 26 27 31 33 34 36 38 40 41 42 44 45 49 50 51 52 53 54 55 56 60 69 73 |
| 650 Subj:Topic | 0 | $v | Specimens. |
| 650 Subj:Topic | 1 | $a Source other than LC | Mice |
| | | $v | Fiction. |
| 650 Subj:Topic | 1 | $a Source other than LC | Robots |
| | | $v | Fiction. |
| 650 Subj:Topic | 1 | $a Source other than LC | Toy and movable books. |
| 650 Subj:Topic | 7 | $a Source other than LC | Mice |
| | | $v | Fiction. |
| | | $2 | sears |
| 650 Subj:Topic | 7 | $a Source other than LC | Robots |
| | | $v | Fiction. |
| | | $2 | sears |
| 650 Subj:Topic | 7 | $a Source other than LC | Toy and movable books. |
| | | $2 | sears. |
| 700 AE:PersName | 1 | $a Name | Ontiveros, Martin, |
| | | $e Relator | ill. |
| 852 Holdings | | $a Location | DISL |
| | | $h Classification part | J Fic Pil |
| | | $p Barcode | 36631 |
| | | $9 Cost | $3.99 |
| 856 ElectronicLocat | 4 | $3 Materials specified | Cover image |
| | | $u Uniform Resource Identifier | https://covers.openlibrary.org/b/id/6933584-M.jpg |