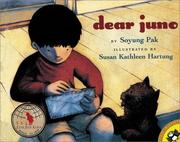 DLRC R3 Pak
Dear Juno
New York : Puffin Books, 2001, c1999.
1 v. (unpaged) : col. ill. ; 21 x 26 cm.
Although Juno, a Korean American boy, cannot read the letter he receives from his grandmother in Seoul, he understands what it means from the photograph and dried flower that are enclosed and decides to send a similar letter back to her.
Reading Counts: Level 3.4 LG / 0.5 Points / 2125.
Lexile: AD 390L
Available
DLRC
1 copy available at Dalat International School Library
| Field | Ind | Subfield | Data |
| --- | --- | --- | --- |
| 001 | | | 49795 |
| 005 Last Transction | | | 20191231062930.0 |
| 008 Data Elements | | | 020712t20011999nyua j 000 1 eng |
| 010 LCCN | | $a Record content licensor | 98043408 |
| 020 ISBN | | $a ISBN | 978-0-14-230017-6 |
| 020 ISBN | | $a ISBN | 978-0-14-230017-6 : |
| | | $c Terms of availability | $10.52 |
| 035 System Cntrl No | | $a System control number | (IJPBB)pb000070200 |
| 035 System Cntrl No | | $a System control number | 23315 |
| 040 Cataloging Src | | $a Original cataloging agency | DLC |
| | | $c Transcribing agency | DLC |
| | | $d Modifying agency | DLC |
| | | $d Modifying agency | IJPBB |
| 050 LCCN | 00 | $a Classification number | PZ7.P173 |
| | | $b Item number | De 2001 |
| 082 Dewey Class No | 00 | $a Classification number | [Fic] |
| | | $2 Edition number | 21 |
| 092 | | $a | J Fic Pak |
| 100 Personl Name ME | 1 | $a Personal name | Pak, Soyung. |
| 245 Title | 10 | $a Title | Dear Juno / |
| | | $c Statement of responsibility | by Soyung Pak ; illustrated by Susan Kathleen Hartung. |
| 260 PublicationInfo | | $a Place of publication, dist. | New York : |
| | | $b Name of publisher, dist, etc | Puffin Books, |
| | | $c Date of publication, dist, etc | 2001, c1999. |
| 300 Physical Desc | | $a Extent | 1 v. (unpaged) : |
| | | $b Other physical details | col. ill. ; |
| | | $c Dimensions | 21 x 26 cm. |
| 510 Citation/Refs | 3 | $a Name of source | ALA Booklist |
| 510 Citation/Refs | 3 | $a Name of source | Wilson's Children's Catalog |
| 520 Summary Etc. | | $a Summary, etc. note | Although Juno, a Korean American boy, cannot read the letter he receives from his grandmother in Seoul, he understands what it means from the photograph and dried flower that are enclosed and decides to send a similar letter back to her. |
| 521 Target Audience | 8 | $a Target audience note | AD390 |
| | | $b Source | Lexile. |
| | | $2 | 4.1 |
| 521 Target Audience | 2 | $a Target audience note | K-3 |
| | | $b Source | Perma-Bound Books. |
| 526 Study Program | 0 | $a Program name | Accelerated Reader AR |
| | | $b Interest level | LG |
| | | $c Reading level | 3.4 |
| | | $d Title point value | 0.5 |
| | | $z Public note | 2125. |
| 650 Subj:Topic | 1 | $a Source other than LC | Grandmothers |
| | | $v | Fiction. |
| 650 Subj:Topic | 1 | $a Source other than LC | Letters |
| | | $v | Fiction. |
| 650 Subj:Topic | 1 | $a Source other than LC | Korean Americans |
| | | $v | Fiction. |
| 650 Subj:Topic | 7 | $a Source other than LC | Grandmothers |
| | | $v | Fiction. |
| | | $2 | sears |
| 650 Subj:Topic | 7 | $a Source other than LC | Letters |
| | | $v | Fiction. |
| | | $2 | sears |
| 650 Subj:Topic | 7 | $a Source other than LC | Korean Americans |
| | | $v | Fiction. |
| | | $2 | sears. |
| 700 AE:PersName | 1 | $a Name | Hartung, Susan Kathleen, |
| | | $e Relator | ill. |
| 852 Holdings | | $a Location | DISL |
| | | $h Classification part | DLRC R3 Pak |
| | | $p Barcode | 67663 |
| | | $9 Cost | $10.52 |
| 856 ElectronicLocat | 4 | $3 Materials specified | Cover image |
| | | $u Uniform Resource Identifier | https://covers.openlibrary.org/b/id/1118964-M.jpg |