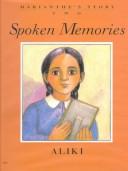 DLRC R3 Ali
Painted words : Spoken memories
New York : Greenwillow Books, c1998.
1 v. (unpaged) : col. ill. ; 29 cm.
Two separate stories, the first telling of Mari's starting school in a new land, and the second describing village life in her country before she and her family left in search of a better life.
Available
DLRC
1 copy available at Dalat International School Library
| | |
| --- | --- |
| ISBN: | |
| ISBN: | |
| ISBN: | |
| ISBN: | |
| ISBN: | |
| ISBN: | |
| ISBN: | |
| ISBN: | |
| Author: | |
| Title: | |
| Publisher: | New York : Greenwillow Books, c1998. |
| Series: | |
| Subject: | |
| Subject: | |
| Subject: | |
| AE:DiffTitle: | Spoken memories. |
| Call: | DLRC R3 Ali |
| Link: | |
| Field | Ind | Subfield | Data |
| --- | --- | --- | --- |
| 001 | | | 49790 |
| 005 Last Transction | | | 20190718010303.0 |
| 008 Data Elements | | | 970815s1998 nyua b 000 1 eng |
| 010 LCCN | | $a Record content licensor | 97034653 |
| 019 | | $a | 40276775 |
| 020 ISBN | | $a ISBN | 978-0-688-15663-3 : |
| | | $c Terms of availability | (trade) |
| 020 ISBN | | $a ISBN | 978-0-688-15663-3 : |
| | | $c Terms of availability | (trade) |
| 020 ISBN | | $a ISBN | 978-0-688-15664-0 : |
| | | $c Terms of availability | (lib. bdg.) |
| 020 ISBN | | $a ISBN | 978-0-688-15664-0 : |
| | | $c Terms of availability | (lib. bdg.) |
| 020 ISBN | | $a ISBN | 978-0-688-15662-6 : |
| | | $c Terms of availability | (lib. bdg.) |
| 020 ISBN | | $a ISBN | 978-0-688-15662-6 : |
| | | $c Terms of availability | (lib. bdg.) |
| 020 ISBN | | $a ISBN | 978-0-688-15661-9 : |
| | | $c Terms of availability | (trade) |
| 020 ISBN | | $a ISBN | 978-0-688-15661-9 : |
| | | $c Terms of availability | (trade) |
| 035 System Cntrl No | | $a System control number | (OCoLC)37545537 |
| | | $z Canceled/invalid control no. | (OCoLC)40276775 |
| 035 System Cntrl No | | $a System control number | (OCoLC)37545537 |
| 040 Cataloging Src | | $a Original cataloging agency | DLC |
| | | $b Language of cataloging | eng |
| | | $c Transcribing agency | DLC |
| | | $d Modifying agency | FLP |
| | | $d Modifying agency | MUS |
| | | $d Modifying agency | WAU |
| | | $d Modifying agency | BAKER |
| | | $d Modifying agency | YDXCP |
| | | $d Modifying agency | OCLCQ |
| 042 Authentication | | $a Authentication code | lcac |
| 050 LCCN | 00 | $a Classification number | PZ7.A397 |
| | | $b Item number | Mar 1998 |
| 100 Personl Name ME | 0 | $a Personal name | Aliki. |
| 245 Title | 10 | $a Title | Painted words : |
| | | $b Remainder of title | Spoken memories / |
| | | $c Statement of responsibility | Aliki. |
| 246 VaryingTitle | 3 | $a Title proper/short title | Painted words ; Spoken memories |
| 250 Edition | | $a Edition statement | 1st ed. |
| 260 PublicationInfo | | $a Place of publication, dist. | New York : |
| | | $b Name of publisher, dist, etc | Greenwillow Books, |
| | | $c Date of publication, dist, etc | c1998. |
| 300 Physical Desc | | $a Extent | 1 v. (unpaged) : |
| | | $b Other physical details | col. ill. ; |
| | | $c Dimensions | 29 cm. |
| 490 SeriesStatement | 1 | $a Series statement | Marianthe's story ; |
| | | $v Vol. no./sequential designatn | 1-2 |
| 500 General Note | | $a General note | Two stories bound back to back and inverted. |
| 520 Summary Etc. | | $a Summary, etc. note | Two separate stories, the first telling of Mari's starting school in a new land, and the second describing village life in her country before she and her family left in search of a better life. |
| 650 Subj:Topic | 0 | $a Source other than LC | Upside-down books |
| | | $v | Specimens |
| 650 Subj:Topic | | $a Source other than LC | Schools |
| 650 Subj:Topic | | $a Source other than LC | Storytelling. |
| 655 | 0 | $a | Upside-down books. |
| 700 AE:PersName | 02 | $a Name | Aliki. |
| | | $t Title of a work | Spoken memories. |
| 740 AE:DiffTitle | 02 | $a Title traced differently | Spoken memories. |
| 800 SAE:PersonlName | 0 | $a Personal name | Aliki. |
| | | $t Title of a work | Marianthe's story ; |
| | | $v Volume/sequential designation | 1-2. |
| 852 Holdings | | $a Location | DISL |
| | | $h Classification part | DLRC R3 Ali |
| | | $p Barcode | 67658 |
| | | $9 Cost | $17.99 |
| 856 ElectronicLocat | 4 | $3 Materials specified | Cover image |
| | | $u Uniform Resource Identifier | https://covers.openlibrary.org/b/id/3788928-M.jpg |