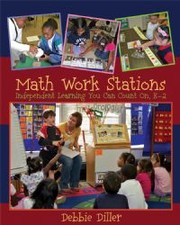 TESAdmin Dil
Math work stations : independent learning you can count on, K-2
Portland, Me. : Stenhouse Publishers ; Markham, Ont. : Pembroke Publishers, 2011.
ix, 299 pages : illustrations (chiefly color) ; 26 cm.
If you've ever questioned how to make math stations work, you'll find this photo-filled, idea-packed resource invaluable. This book extends Debbie Diller's best-selling work on literacy work stations and classroom design to the field of mathematics.
Available
Textbooks/Classroom Materials
1 copy available at Dalat International School Library
| Field | Ind | Subfield | Data |
| --- | --- | --- | --- |
| 001 | | | 48787 |
| 005 Last Transction | | | 20190716173008.0 |
| 008 Data Elements | | | 100813s2011 meua b 001 0 eng |
| 010 LCCN | | $a Record content licensor | 2010032048 |
| 020 ISBN | | $a ISBN | 978-1-57110-793-0 |
| 020 ISBN | | $a ISBN | 978-1-57110-793-0 |
| 035 System Cntrl No | | $a System control number | (OCoLC)656213188 |
| 035 System Cntrl No | | $a System control number | (OCoLC)656213188 |
| 040 Cataloging Src | | $a Original cataloging agency | DLC |
| | | $b Language of cataloging | eng |
| | | $c Transcribing agency | DLC |
| | | $d Modifying agency | YDX |
| | | $d Modifying agency | YDXCP |
| | | $d Modifying agency | HFC |
| | | $d Modifying agency | UKMGB |
| | | $d Modifying agency | CDX |
| | | $d Modifying agency | OCLCF |
| | | $d Modifying agency | OCLCO |
| | | $d Modifying agency | GZS |
| | | $d Modifying agency | OCL |
| | | $d Modifying agency | OCLCQ |
| | | $d Modifying agency | OCLCO |
| | | $d Modifying agency | CHILD |
| | | $d Modifying agency | CMJ |
| 050 LCCN | 00 | $a Classification number | QA135.6 |
| | | $b Item number | .D55 2011 |
| 082 Dewey Class No | 00 | $a Classification number | 372.7 |
| | | $2 Edition number | 22 |
| 100 Personl Name ME | 1 | $a Personal name | Diller, Debbie, |
| | | $d Dates associated with a name | 1954- |
| 245 Title | 10 | $a Title | Math work stations : |
| | | $b Remainder of title | independent learning you can count on, K-2 / |
| | | $c Statement of responsibility | Debbie Diller. |
| 260 PublicationInfo | | $a Place of publication, dist. | Portland, Me. : |
| | | $b Name of publisher, dist, etc | Stenhouse Publishers ; |
| | | $a Place of publication, dist. | Markham, Ont. : |
| | | $b Name of publisher, dist, etc | Pembroke Publishers, |
| | | $c Date of publication, dist, etc | 2011. |
| 300 Physical Desc | | $a Extent | ix, 299 pages : |
| | | $b Other physical details | illustrations (chiefly color) ; |
| | | $c Dimensions | 26 cm. |
| 336 ContentType | | $a Content type term | text |
| | | $b Content type code | txt |
| | | $2 Source | rdacontent |
| 337 MediaType | | $a Media type term | unmediated |
| | | $b Media type code | n |
| | | $2 Source | rdamedia |
| 338 CarrierType | | $a Carrier type term | volume |
| | | $b Carrier type code | nc |
| | | $2 Source | rdacarrier |
| 504 BibliogEtcNote | | $a Bibliography, etc. note | Includes bibliographical references and index. |
| 505 ContentsNote | 0 | $a Formatted contents note | What is a math work station? -- Organizing and managing math materials -- Getting started with math work stations -- Beginning number concepts work stations -- Addition and subtraction work stations -- Place value work stations -- Geometry work stations -- Measurement work stations. |
| 520 Summary Etc. | | $a Summary, etc. note | If you've ever questioned how to make math stations work, you'll find this photo-filled, idea-packed resource invaluable. This book extends Debbie Diller's best-selling work on literacy work stations and classroom design to the field of mathematics. |
| 650 Subj:Topic | 0 | $a Source other than LC | Mathematics |
| | | $x | Study and teaching (Primary) |
| 650 Subj:Topic | 0 | $a Source other than LC | Early childhood education. |
| 710 AE:CorpName | 2 | $a Name | Stenhouse Publishers, |
| | | $e Relator | publisher |
| 710 AE:CorpName | 2 | $a Name | Pembroke Publishers, |
| | | $e Relator | publisher. |
| 852 Holdings | | $a Location | DISL |
| | | $h Classification part | TESAdmin Dil |
| | | $p Barcode | 66416 |
| | | $9 Cost | $29.99 |
| 856 ElectronicLocat | 4 | $3 Materials specified | Cover image |
| | | $u Uniform Resource Identifier | https://covers.openlibrary.org/b/id/7273953-M.jpg |