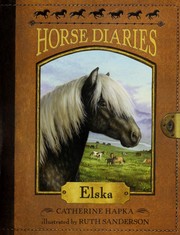 J Fic Hap
Elska
New York : Random House, c2009.
113 p. : ill. ; 19 cm.
Around the year 1000, the Icelandic horse named Elska is born and learns about life and her role in the herd, as well as love and friendship, when she rescues the girl to whom she originally belonged. Includes facts about Icelandic horses and Iceland.
Available
Juvenile (Elementary) Fiction
1 copy available at Dalat International School Library
| | |
| --- | --- |
| ISBN: | |
| ISBN: | |
| ISBN: | |
| ISBN: | |
| ISBN: | |
| ISBN: | |
| Dewey Class No: | |
| Author: | |
| Title: | |
| Publisher: | New York : Random House, c2009. |
| Series: | |
| Subject: | |
| Subject: | |
| Subject: | |
| Subject: | |
| Subject: | |
| Subject: | |
| Call: | J Fic Hap |
| Link: | |
| Field | Ind | Subfield | Data |
| --- | --- | --- | --- |
| 001 | | | 48760 |
| 005 Last Transction | | | 20190611003800.0 |
| 008 Data Elements | | | 070612s2009 nyua c 000 1 eng |
| 010 LCCN | | $a Record content licensor | 2007022109 |
| 020 ISBN | | $a ISBN | 978-0-375-84732-5 (pbk.) |
| 020 ISBN | | $a ISBN | 978-0-375-94677-6 (lib. bdg.) |
| 020 ISBN | | $a ISBN | 978-0-329-75117-3 (Follett bdg.) |
| 020 ISBN | | $a ISBN | 978-0-375-94677-6 |
| 020 ISBN | | $a ISBN | 978-0-375-84732-5 |
| 020 ISBN | | $a ISBN | 978-0-329-75117-3 |
| 035 System Cntrl No | | $a System control number | (IMchF)fol11635182 |
| 035 System Cntrl No | | $a System control number | (RICAT)788208 |
| 040 Cataloging Src | | $a Original cataloging agency | DLC |
| | | $c Transcribing agency | DLC |
| | | $d Modifying agency | DLC |
| | | $d Modifying agency | DLC |
| | | $d Modifying agency | ICrlF |
| 042 Authentication | | $a Authentication code | lcac |
| 043 GAC | | $a Geographic area code | e-ic--- |
| 050 LCCN | 00 | $a Classification number | PZ10.3.H2258 |
| | | $b Item number | El 2009 |
| 082 Dewey Class No | 00 | $a Classification number | [Fic] |
| | | $2 Edition number | 22 |
| 100 Personl Name ME | 1 | $a Personal name | Hapka, Cathy. |
| 245 Title | 10 | $a Title | Elska / |
| | | $c Statement of responsibility | Catherine Hapka ; illustrated by Ruth Sanderson. |
| 250 Edition | | $a Edition statement | 1st ed. |
| 260 PublicationInfo | | $a Place of publication, dist. | New York : |
| | | $b Name of publisher, dist, etc | Random House, |
| | | $c Date of publication, dist, etc | c2009. |
| 300 Physical Desc | | $a Extent | 113 p. : |
| | | $b Other physical details | ill. ; |
| | | $c Dimensions | 19 cm. |
| 440 Series Title | 0 | $6 Linkage | Horse Diaries |
| 490 SeriesStatement | 1 | $a Series statement | Horse diaries ; |
| | | $v Vol. no./sequential designatn | 1 |
| 510 Citation/Refs | 0 | $a Name of source | Booklist |
| 510 Citation/Refs | 0 | $a Name of source | Horn Book |
| 510 Citation/Refs | 3 | $a Name of source | Booklist, February 2009 |
| 510 Citation/Refs | 3 | $a Name of source | Horn Book, October 2009 |
| 520 Summary Etc. | | $a Summary, etc. note | Around the year 1000, the Icelandic horse named Elska is born and learns about life and her role in the herd, as well as love and friendship, when she rescues the girl to whom she originally belonged. Includes facts about Icelandic horses and Iceland. |
| 650 Subj:Topic | 0 | $a Source other than LC | Iceland pony |
| | | $v | Juvenile fiction. |
| 650 Subj:Topic | 1 | $a Source other than LC | Iceland pony |
| | | $v | Fiction. |
| 650 Subj:Topic | 1 | $a Source other than LC | Horses |
| | | $v | Fiction. |
| 650 Subj:Topic | 1 | $a Source other than LC | Historical fiction. |
| 650 Subj:Topic | 7 | $a Source other than LC | Ponies |
| | | $v | Fiction. |
| | | $2 | sears |
| 650 Subj:Topic | 7 | $a Source other than LC | Historical fiction. |
| | | $2 | sears. |
| 651 Subj:Geo | 0 | $a Geographic name or place | Iceland |
| | | $x General subdivision | History |
| | | $y Chronological subdivision | To 1262 |
| | | $v | Juvenile fiction. |
| 651 Subj:Geo | 1 | $a Geographic name or place | Iceland |
| | | $x General subdivision | History |
| | | $y Chronological subdivision | To 1262 |
| | | $v | Fiction. |
| 651 Subj:Geo | 7 | $a Geographic name or place | Iceland |
| | | $x General subdivision | History |
| | | $v | Fiction. |
| | | $2 Source of heading or term | sears. |
| 655 | 7 | $a | Historical fiction. |
| | | $2 | gsafd. |
| 700 AE:PersName | 1 | $a Name | Sanderson, Ruth, |
| | | $e Relator | ill. |
| 830 SAE:UnifrmTitle | 0 | $a Uniform title | Horse diaries ; |
| | | $v Volume/sequential designation | #1. |
| 852 Holdings | | $a Location | DISL |
| | | $h Classification part | J Fic Hap |
| | | $p Barcode | 66346 |
| | | $9 Cost | $5.99 |
| 856 ElectronicLocat | 4 | $3 Materials specified | Cover image |
| | | $u Uniform Resource Identifier | https://covers.openlibrary.org/b/id/7093699-M.jpg |