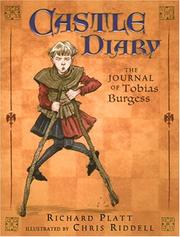 J Fic Pla
Castle diary : the journal of Tobias Burgess, page
Cambridge, Mass. : Candlewick Press, 2003, c1999.
123 p. : ill. ; 19 cm.
As a page in his uncle's castle in thirteenth-century England, eleven-year-old Tobias records in his journal his experiences learning how to hunt, play games of skill, and behave in noble society. Includes notes on noblemen, castles, and feudalism.
Reading Counts: Level 5.4 3-5 / 4.0 Points
Available
Juvenile (Elementary) Fiction
1 copy available at Dalat International School Library
| Field | Ind | Subfield | Data |
| --- | --- | --- | --- |
| 001 | | | 44975 |
| 005 Last Transction | | | 20190320223155.0 |
| 008 Data Elements | | | 030724t20031999maua c b 001 1 eng d |
| 020 ISBN | | $a ISBN | 978-0-7636-2164-3 |
| 035 System Cntrl No | | $a System control number | (ICrlF)32306V |
| 035 System Cntrl No | | $a System control number | (ICrlF)fol08979625 |
| 035 System Cntrl No | | $a System control number | (RICAT)268585 |
| 040 Cataloging Src | | $a Original cataloging agency | ICrlF |
| | | $c Transcribing agency | ICrlF |
| | | $d Modifying agency | ICrlF |
| 050 LCCN | 04 | $a Classification number | PZ7.P71295 |
| | | $b Item number | Cas 2003 |
| 082 Dewey Class No | 04 | $a Classification number | [Fic] |
| | | $2 Edition number | 22 |
| 100 Personl Name ME | 1 | $a Personal name | Platt, Richard. |
| 245 Title | 10 | $a Title | Castle diary : |
| | | $b Remainder of title | the journal of Tobias Burgess, page / |
| | | $c Statement of responsibility | [transcribed by] Richard Platt ; illuminated by Chris Riddell. |
| 246 VaryingTitle | 30 | $a Title proper/short title | Journal of Tobias Burgess, page |
| 250 Edition | | $a Edition statement | 1st U.S. small pbk. ed. |
| 260 PublicationInfo | | $a Place of publication, dist. | Cambridge, Mass. : |
| | | $b Name of publisher, dist, etc | Candlewick Press, |
| | | $c Date of publication, dist, etc | 2003, c1999. |
| 300 Physical Desc | | $a Extent | 123 p. : |
| | | $b Other physical details | ill. ; |
| | | $c Dimensions | 19 cm. |
| 504 BibliogEtcNote | | $a Bibliography, etc. note | Includes bibliographical references and index. |
| 510 Citation/Refs | 3 | $a Name of source | School Library Journal starred, December 1999 |
| 510 Citation/Refs | 3 | $a Name of source | Five Owls, June 2003 |
| 510 Citation/Refs | 3 | $a Name of source | Book Links (A.L.A.), September 2004 |
| 510 Citation/Refs | 3 | $a Name of source | Publisher's Weekly, July 1999 |
| 510 Citation/Refs | 3 | $a Name of source | Booklist, November 1999 |
| 510 Citation/Refs | 3 | $a Name of source | Bulletin (Center for Children's books), December 1999 |
| 520 Summary Etc. | | $a Summary, etc. note | As a page in his uncle's castle in thirteenth-century England, eleven-year-old Tobias records in his journal his experiences learning how to hunt, play games of skill, and behave in noble society. Includes notes on noblemen, castles, and feudalism. |
| 526 Study Program | 0 | $a Program name | Reading Counts/Scholastic |
| | | $b Interest level | 3-5 |
| | | $c Reading level | 5.4 |
| | | $d Title point value | 4.0 |
| 526 Study Program | 0 | $a Program name | Reading Counts RC |
| | | $c Reading level | 5.4 |
| | | $d Title point value | 4.0. |
| 650 Subj:Topic | 1 | $a Source other than LC | Castles |
| | | $v | Fiction. |
| 650 Subj:Topic | 1 | $a Source other than LC | Middle Ages |
| | | $v | Fiction. |
| 650 Subj:Topic | 1 | $a Source other than LC | Diaries |
| | | $v | Fiction. |
| 700 AE:PersName | 1 | $a Name | Riddell, Chris, |
| | | $e Relator | ill. |
| 852 Holdings | | $a Location | DISL |
| | | $h Classification part | J Fic Pla |
| | | $p Barcode | 76666 |
| | | $9 Cost | $6.99 |
| 852 Holdings | | $a Location | DISL |
| | | $h Classification part | DLRC SS13 Pla |
| | | $p Barcode | 66395 |
| | | $9 Cost | $6.99 |
| 856 ElectronicLocat | 4 | $3 Materials specified | Cover image |
| | | $u Uniform Resource Identifier | https://covers.openlibrary.org/b/id/516179-M.jpg |