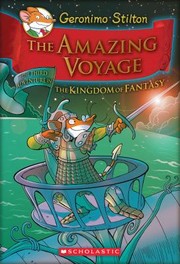 J Fic Sti
The amazing voyage : the third adventure in the Kingdom of Fantasy
New York : Scholastic, c2011.
291 p. : col. ill., col. maps ; 20 cm.
Geronimo joins the effort to rescue Blossom, Queen of the Fairies, who has been kidnapped by the Queen of the Witches and taken to the Kingdom of Nightmares.
Reading Counts: Level 4.0 MG / 3.0 Points / 140206.
Lexile: 620L
Available
Juvenile (Elementary) Fiction
3 copies available at Dalat International School Library
| Field | Ind | Subfield | Data |
| --- | --- | --- | --- |
| 001 | | | 26311 |
| 005 Last Transction | | | 20191115085649.0 |
| 008 Data Elements | | | 101208s2011 nyu c 000 1 eng |
| 010 LCCN | | $a Record content licensor | 2010046972 |
| 020 ISBN | | $a ISBN | 978-0-545-30771-0 |
| 020 ISBN | | $a ISBN | 978-0-545-25307-9 |
| 020 ISBN | | $a ISBN | 978-0-545-25307-9 |
| 020 ISBN | | $a ISBN | 978-0-545-30771-0 |
| 035 System Cntrl No | | $a System control number | (SKY)sky235046584 |
| 040 Cataloging Src | | $a Original cataloging agency | DLC |
| | | $c Transcribing agency | DLC |
| | | $d Modifying agency | CoLwJCPL |
| 041 Language Code | 1 | $a Text/soundtrack/separate title | eng |
| | | $h Orig/intermediate tranlations | ita |
| 042 Authentication | | $a Authentication code | lcac |
| | | $a Authentication code | pcc |
| 049 | | $a | JRS |
| 050 LCCN | 00 | $a Classification number | PZ7.A49168 |
| | | $b Item number | Am 2011 |
| 082 Dewey Class No | 00 | $a Classification number | [Fic] |
| | | $2 Edition number | 22 |
| 100 Personl Name ME | 1 | $a Personal name | Stilton, Geronimo. |
| 240 UniformTitle | 00 | $a Uniform title | Terzo viaggio nel della Regno Fantasia. |
| | | $l Language of a work | English. |
| 245 Title | 14 | $a Title | The amazing voyage : |
| | | $b Remainder of title | the third adventure in the Kingdom of Fantasy / |
| | | $c Statement of responsibility | Geronimo Stilton ; [translated by Julia Heim]. |
| 260 PublicationInfo | | $a Place of publication, dist. | New York : |
| | | $b Name of publisher, dist, etc | Scholastic, |
| | | $c Date of publication, dist, etc | c2011. |
| 300 Physical Desc | | $a Extent | 291 p. : |
| | | $b Other physical details | col. ill., col. maps ; |
| | | $c Dimensions | 20 cm. |
| 440 Series Title | 4 | $6 Linkage | The Kingdom of Fantasy ; |
| | | $v Vol. no./sequential designtion | 3 |
| 490 SeriesStatement | 1 | $a Series statement | [Kingdom of Fantasy ; |
| | | $v Vol. no./sequential designatn | 3] |
| 500 General Note | | $a General note | Translation of: Terzo viaggio nel della Regno Fantasia. |
| 520 Summary Etc. | | $a Summary, etc. note | Geronimo joins the effort to rescue Blossom, Queen of the Fairies, who has been kidnapped by the Queen of the Witches and taken to the Kingdom of Nightmares. |
| 521 Target Audience | 8 | $a Target audience note | 620 |
| | | $b Source | Lexile. |
| 526 Study Program | 0 | $a Program name | Accelerated Reader AR |
| | | $b Interest level | MG |
| | | $c Reading level | 4.0 |
| | | $d Title point value | 3.0 |
| | | $z Public note | 140206. |
| 650 Subj:Topic | 0 | $a Source other than LC | Mice |
| | | $v | Juvenile fiction. |
| 650 Subj:Topic | 0 | $v | Juvenile fiction. |
| 650 Subj:Topic | 0 | $v | Juvenile fiction. |
| 650 Subj:Topic | 0 | $a Source other than LC | Kidnapping |
| | | $v | Juvenile fiction. |
| 655 | 7 | $a | Fantasy fiction. |
| | | $2 | gsafd. |
| 700 AE:PersName | 1 | $a Name | Heim, Julia. |
| | | $4 Relator code | trl. |
| 830 SAE:UnifrmTitle | 0 | $a Uniform title | Kingdom of Fantasy ; |
| | | $v Volume/sequential designation | 3. |
| 852 Holdings | | $a Location | DISL |
| | | $h Classification part | J Fic Sti |
| | | $p Barcode | 64015 |
| | | $9 Cost | $14.99 |
| 852 Holdings | | $a Location | DISL |
| | | $h Classification part | J Fic Sti |
| | | $p Barcode | 65945 |
| | | $9 Cost | $14.99 |
| 852 Holdings | | $a Location | DISL |
| | | $h Classification part | J Fic Sti |
| | | $p Barcode | 36676 |
| | | $9 Cost | $8.00 |
| 856 ElectronicLocat | 4 | $3 Materials specified | Cover image |
| | | $u Uniform Resource Identifier | https://covers.openlibrary.org/b/id/7759130-M.jpg |
| 856 ElectronicLocat | 4 | $3 Materials specified | Author photo |
| | | $u Uniform Resource Identifier | https://covers.openlibrary.org/a/olid/OL2703408A-M.jpg |